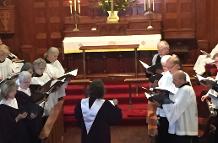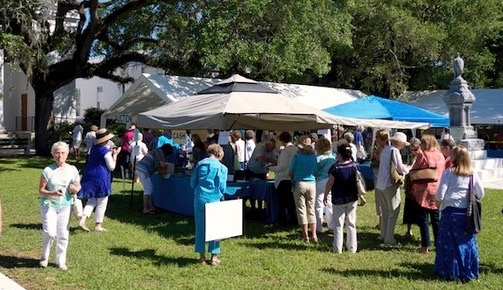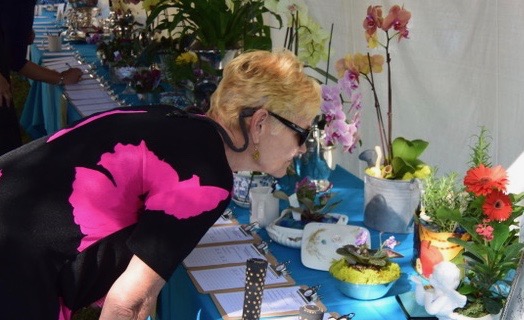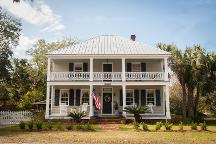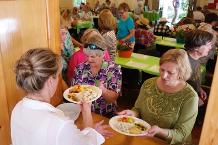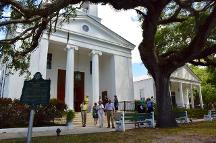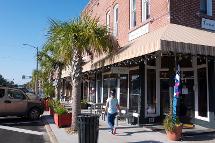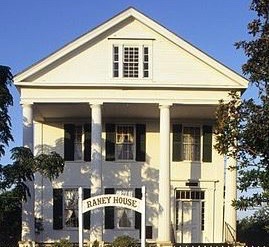 Special events take place at Trinity
Episcopal Church, Gorrie Square,
and Benedict Hall - 79 6th Street

FRIday, May 3
Evensong & Reception -- 6 pm
An Evensong Concert Service at Trinity Episcopal Church and a reception in historic Gorrie Square kick off the 27th Annual Historic Apalachicola Home and Garden Tour.

Saturday, May 4
Tour check-in & Quick Breakfast -- 9 am
Gorrie Square is your place for will-call, tickets, tour maps, and coffee and pastries.


Silent Auction/Buy it Now -- 10 am to 2 pm
Stroll the tents to place bids on silent auction items that include vacation rentals, family heirlooms, original artwork, and fishing gear. Buy it Now features items for immediate purchase. Silent auction bidding ends at 2 pm.


Home & Garden Tour -- 10 am to 4 pm
With your wristband ticket and map, you're set to see eight homes and two unique gardens. Apalachicola is compact and easy to navigate – walk, bike, or take a golf
cart to access most of the stops. Please remember private residences are not accessible for wheelchair users.


Luncheon - 11:30 am to 1:30 pm
Take a midday break for a tour tradition -- a delicious lunch at Benedict Hall prepared by the Episcopal Church Women. Lunch includes a shrimp or chicken salad entree, fruit, roll, beverage, and a selection of homemade desserts. Lunch, $12.

Sunday, May 5
All are welcome at Trinity Episcopal Church for Sunday services.
8 am – Rite 1 Eucharist – contemplative and quiet without musical accompaniment
10:30 am – Rite 2 Eucharist – with choir and instrumental music
Coffee hour in Benedict Hall follows the10:30 am service.

VISIT APALACHICOLA
An authentic coastal town renowned for its mouth-watering seafood and charm, Apalachicola features a waterfront dotted with fishing vessels, a downtown filled with eclectic shops, and streets lined with historic buildings. Be sure to visit our museums, galleries, Parks, Shops, and restaurants during your tour weekend.
Historical Society Preservation Reception at Raney House Museum
Continuing a tradition, the Apalachicola Area Historical Society is sponsoring the Preservation Reception on Thursday, May 2, 5:30 to 7 p.m., in the historic Raney House Museum at 128 Market Street. Tickets are $15 and may be purchased at the museum, the Apalachicola Bay Chamber of Commerce, at apalachicolahistoricalsociety.org,
or at the door May 2.
Chestnut Street Cemetery Ghost Walk
Hauntings will abound at Apalachicola's historic Chestnut Street Cemetery on Saturday, May 4, 6:30 to 8:30 p.m., when local history enthusiasts don the garb and take on the personae of some of the cemetery's notable inhabitants. Tickets are $5 and can be purchased at the cemetery gate on Hwy 98.
TICKETS
TOUR, $25 (advance), $30 (day of tour)
LUNCH, $12
Purchase advance tickets:
Online -- Beginning March 1 (Deadline: May 3, 5 pm)
At the Trinity Episcopal Church office, 76 Fifth Street
At the Apalachicola Bay Chamber of Commerce and Visitor Center, 17 Avenue E
Tickets are not mailed; tickets purchased online are "will-call."
Will-call tickets will be available at check-in beginning at 9 am.
Day-of-tour tickets may be purchased ($30) at check-in beginning at 9 am.
Check-in is located in front of Trinity Episcopal Church, 79 6th Street
BUY YOUR TOUR & LUNCHEON HERE:
(click on photo to order your tickets)
TICKET SALES / QUESTIONS
tour@trinityapalachicola.org
(850) 653-9550
Historic Apalachicola
home & garden tour
Presented by
Trinity Episcopal Church
79 Sixth Street
Apalachicola FL 32320