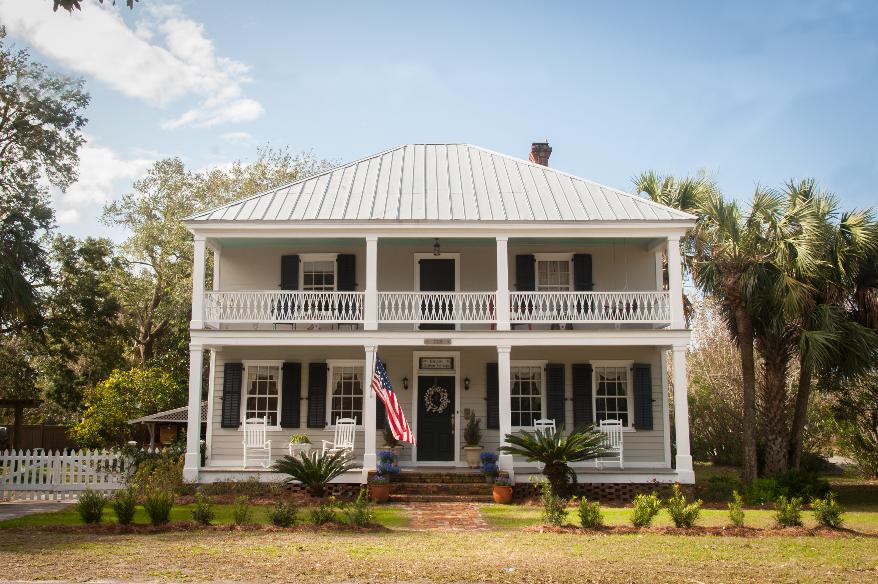 Labatute-Orman-ZINGARELLI
Captivating is the history of this house. A five-bay Colonial Revival, it is one of a very few two-story hipped roof houses in Apalachicola. Today the home belongs to a seventh-generation "Apalachicolan" and her husband. Family photographs, furnishings, and mementoes from travels abroad are highlights.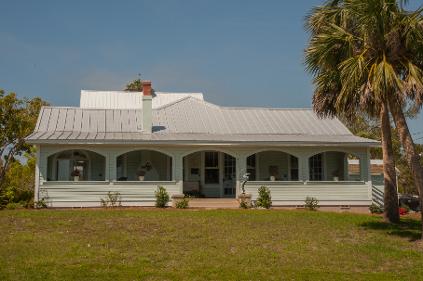 It is said that Dr. George Weems had this bungalow built for his eldest daughter and her husband in 1935. Luckily, the original builder's specs came with the house. The wide front porch, with its distinctive arches, was added in the late 1990s along with custom kitchen cabinetry based on the original design.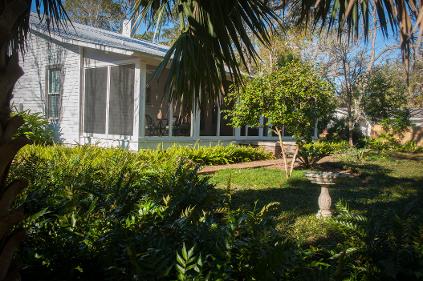 Garden of Porter-Vail-Beck House
This Craftsman-style bungalow was a featured stop on the 2015 tour. This year we are invited to see the garden. Hollis Vail, a longtime owner of the home, established the landscape's bones and major plantings. Come see how the work of the current owner and her talented friends complements Vail's design.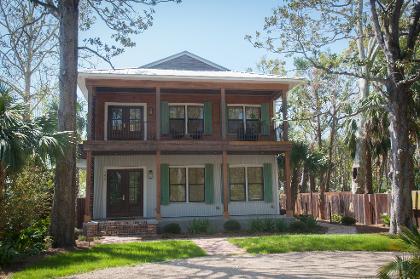 This newly built home in "The Hill" district represents three years of weekend work that culminated in a wedding ceremony on the front steps. The couple continues to work side-by-side in creating their vision – a modern home built using architectural salvage. Many of the found materials represent Apalachicola history.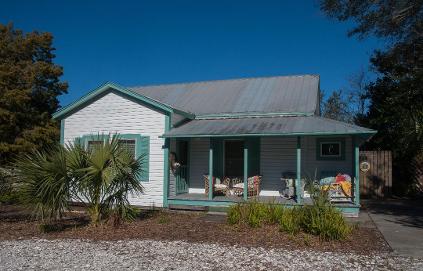 The welcome sign "Ah" says it all about this simple
L-shaped structure that was brought back to life eight years ago. Built probably before 1870, the house's original occupant was associated in an unknown way with the David G. Raney family. Learn more about the history of
this creative home on tour day.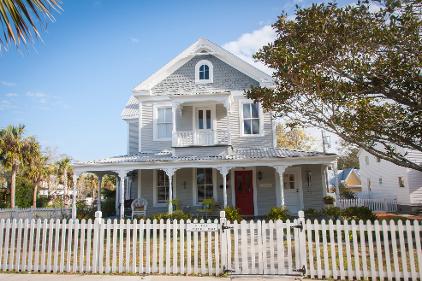 TRINITY RECTORY - MARSHALL HOUSE
The Trinity Episcopal Rectory, one of George Marshall's most interesting Colonial Revival structures, retains much of the Eastlake-influenced Queen Anne details. Constructed of local cypress and heart pine, Marshall built the dwelling in 1900 after the Ladies Guild of the Vestry raised $800.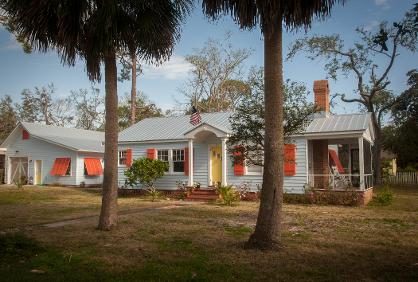 As the third owners, the current homeowners are only the second ones to live in this bright dwelling they named Blue Heaven. During the refurbishment, the couple took great care to preserve the charm and unique characteristics of this 1938 English vernacular cottage-style bungalow.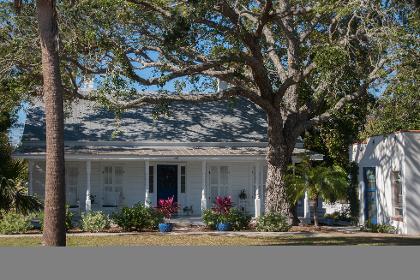 Maddox-Wefing-Schoelles House
Refurbished materials and salvaged wood shine brightly in this five-bay Classic Revival Cottage. Initially restored for use as a weekend getaway, see how the current homeowners, a jewelry designer and her husband, innovatively make it their full-time home. And, learn the purpose of the interesting concrete block addition.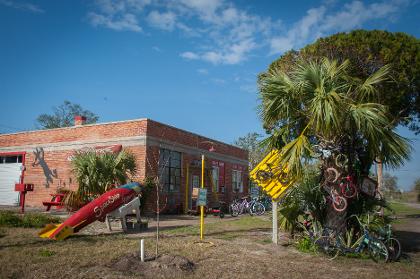 Community effort helps this eclectic garden and
gathering place grow. At the height of harvest, it isn't unusual for 25 to 50 pounds of vegetables to be
gathered in a day. Come find out what compost makes
this soil so prolific and perhaps get ideas to make your own garden sculpture.