FEATURED HOME -

Richardson-Harris-Counts House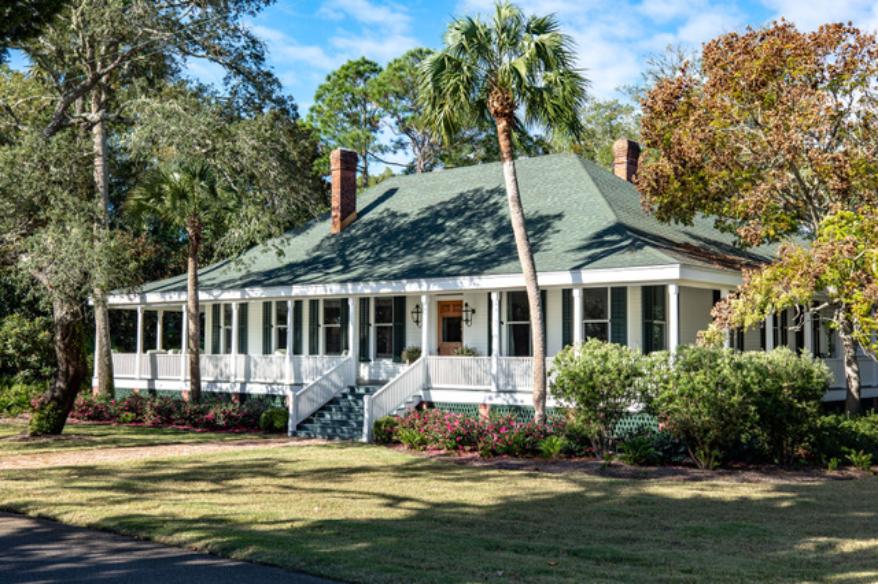 1. Richardson-Harris-Counts House
173 Avenue B
Birds are what brought the owners of our featured home together and birds, specifically chickens and roosters, may be what helped them secure it.
R.H. Richardson probably built this Gulf Coast Style cottage around 1893 using materials supplied by local mills – Coombs and Company, and Cypress Lumber Company. The wide veranda which sweeps down from a hipped roof borrows from French Caribbean Creole architecture. Interestingly, W.C. Harris, the home's second owner who made large improvements to the structure, was involved with the tobacco industry in Cuba and the Caribbean.
In 2017 Deirdre Sheerr-Gross, a retired architect, and Bill Hedges, an Englishman, met at a bird photography workshop on Florida's Merritt Island. "We were both widowed, both bird photographers. We had a lot in common," said Deirdre. Fast forward to March 2018 and the pair is again in Florida, but this time in a new RV driving to Tucson for their wedding.
En route to Arizona, they stayed with Gwen and Reg Corbett. The Corbetts, whose home is also on the tour, had moved to Apalachicola just two months earlier. "Gwen and Reggie introduced us to this house from across the street in the park," said Deirdre. Another serendipitous introduction happened later that afternoon; Bill and Deirdre met the Corbetts' friends, Jean and Gary Ulrich. Jean is a realtor and Gary, a contractor. By the time Bill and Deirdre were honeymooning in their RV, the house overlooking Lafayette Park was theirs.
Although the property had been on the market for quite a while, another couple had suddenly become interested. A possible deciding factor why Bill and Deirdre were chosen by the owners, Barbara and Clark Holmes, was the letter Deirdre wrote to them promising to save the fabulous roosters and chickens their daughter had painted on the kitchen walls.
In the coming months, a transformative renovation led by Gary Ulrich Construction began. In addition to new HVAC, electrical, and plumbing systems, the kitchen was reconfigured into one bright open space complete with the fiesty chickens looking down from their original perches. The widening of openings, along with the consistent warm white painted walls and ceilings, enhances the home's flow. Throughout the house, craftsman Chris Rowe painstakingly reworked the magnificent seven-layer crown molding.
A new screened porch off the kitchen connects with the new open contemporary deck overlooking a private yard landscaped by Tallahassee Nurseries that features Chinese fan palms, live oaks, and tall magnolias.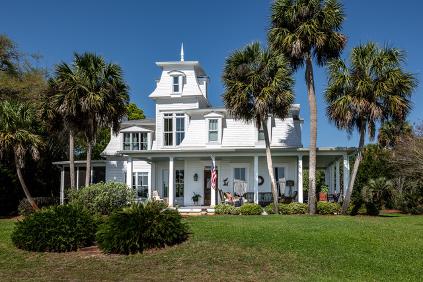 2. Uriah M. Wright House
115 Bay Avenue
One of the few remaining mansardic structures in the state, the Florida Master Site File recognizes the Uriah Wright house as noteworthy to the architecture of Florida. The exemplary structure sits atop a gentle rise composed of three lots overlooking Apalachicola Bay. Thomas Orman, a prominent citizen in the early life of the community, initially owned the land. Uriah Wright, owner of Cypress Lumber Company, constructed the house around 1885.
George Marshall is attributed as the builder; the dwelling resembles the John Marshall house on 16th Street and the Kimball House that was destroyed. The gable tower that emphasizes the Second Empire style, and an additional room and porch, were added in 1999 during a renovation by former owners June and Raymond Diehl.
For Sue and Lee Whitely, their home is a delight, especially for Lee who loves to garden and fish. The couple from Maine became acquainted with Apalachicola in the mid-nineties when traveling to Clearwater to see friends. "We took ourselves on a tour. We said let's go see what this Apalachicola is about," said Sue. They drove down Avenue E, spent the night at the Apalachicola River Inn, ate at Caroline's, and watched the shrimp boats come in. "In the winters we would drive and every time we came south, we'd say let's go see what's happening in Apalachicola." The town's friendly people, old homes, and its "non-busyness" was appealing.
One year Sue and Lee looked at a house in town and got the bug. The next year their realtor had a lineup of houses for them to see. "I told Lee if we're going to do this, let's do it now," said Sue. The couple wanted a home large enough for family visits, especially ones by their four grandchildren. The Uriah Wright house offers that, plus an intriguing tower room to explore.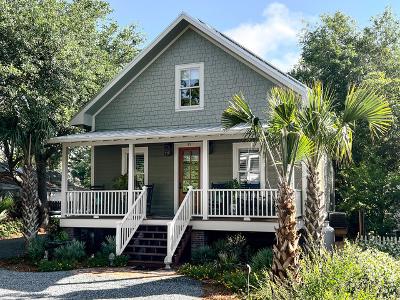 3. Joseph A. Messina House
33 9th Street
"Great care was taken in putting this house together," says Tara Roberts. Indeed, it was. The home on this year's tour is not the same structure 500 people walked through when it was featured in 2016. "I was afraid the house would fall apart," said Tara's husband Michael Roberts. In 2013 the couple purchased the property rescuing its small dwelling from a derelict state. Minor structural changes, paint, and an extensive cleaning helped them enjoy their weekend home while planning its total renovation.
In anticipation of the work ahead, Michael and Tara designed and built the adjoining boat barn/party house with a sleeping loft and outdoor bathroom as a place to live. What they did not foresee is for them to make changes of any kind to the 900 square-foot house, the city would require the structure be moved backwards eight feet. Tenaciously, the Roberts proceeded. The house, after being lifted from its original piers and moved back, broke.
Tara and Mike were told their house was built for the Joseph Messina family in the 1920s. "Josie" and Vivian Messina's daughter Marion did sell the home in 1988, but the house was older. The Florida Master Site File lists the residence as circa 1890, but in moving the structure something else was revealed. The house was actually three structures put together – and all three contained square nails.
Though she can't confirm it, Tara believes the house may have been moved from Port St. Joe when yellow fever struck there in 1841. The move also exposed damage. Intent on saving every piece of wood that had not succumbed to rot, termites, or fire, including huge boards salvaged from barges, Mike painstakingly planed each piece. The unpainted wood seen today in the interior is original, including the floors, except the reddish wood in the upstairs guest room. Tara and Michael appreciate Erin Rodriguez and his crew from ERC Construction for their diligence in restoring and constructing their historic new build. The tiny cottage once intended as a get-away from Tallahassee is now a welcoming full-time home.
Don't miss this art-filled residence (Tara's studio is upstairs), or the adjoining boat/party barn – a popular spot, especially during football season.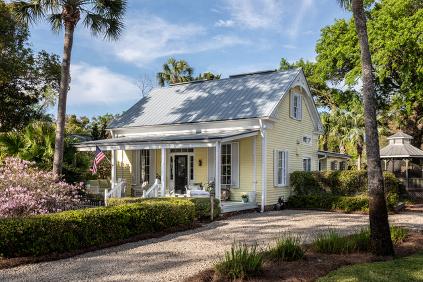 4. Valentine Hoffman House
47 11th Street
Originally at the corner of Avenue B and 9th Street, dry goods proprietor Valentine Hoffman had this house constructed as a rental. Built between 1885 and 1887, it is notable as being one of George Marshall's first contracts. George, with his father and brother, built many residences in Apalachicola. A three bay Classic Revival cottage, this house was the most common type of dwelling (along with the five bay) built in Apalachicola in the nineteenth century.
The home was moved to its present location in 1960. Primarily constructed of local cypress, the house needed repair when George Surratt purchased it in 1989. An architect by trade, he modernized the home. Commendably, George also contributed to the architectural restoration of Trinity Episcopal Church, Mt. Zion Missionary Baptist Church, and the Rainey House.
Two years after George's death in 2002, his widow sold the home to June and Dick Dosik. The Dosiks added windows and made structural changes opening the living and dining areas. In enhancing the home further, the couple added a pool and deck, a gazebo, a garage for their antique cars, and a separate studio/office. Margaret and Larry Richardson, who purchased the cottage in 2015, enlarged and updated the kitchen.
When seeing Apalachicola in the summer of 2015, Gwen and Reg Corbett fell instantly in love with its natural and architectural beauty. Over the next two years, the couple visited many times always admiring the little yellow cottage on 11th Street. After the property fortuitously came on the market, the Corbetts purchased the cottage in 2018 and never looked back.
For Gwen and Reg, life in this light-filled gem is a blessing. Gwen's career in interior design and her love of art and antiques are visible throughout. Reg's career skills in yacht building project management lend perfectly (and daily!) to the care of the 136-year-old home. Grateful for the thoughtful and harmonious changes made by past owners, the Corbetts endeavor to do the same.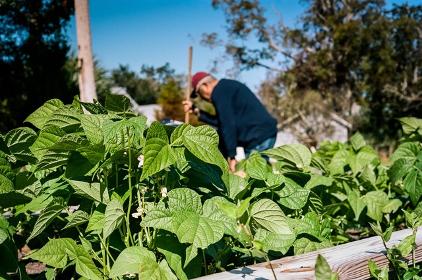 5. Apalachicola City Square
Community Garden
Corners of 8 Street & Avenue F
Whether for experienced gardeners or beginners who want to get their hands dirty, community gardens give people the opportunity and space to grow their own food, socialize with others, and learn about edible gardening. Apalachicola's community garden is no exception.
City Square was originally named White Square for lawyer Joseph White (1781-1839), a delegate from the Florida Territory to Congress and a trustee of the Apalachicola Land Company. It was renamed in the early 1900s when the original City Square became Gorrie Square.
In 2009 the Apalachicola Community Pride Program developed the garden, across from Chestnut Cemetery, to provide an inviting space for citizens to grow food and to enjoy interacting with neighbors.
Today the garden features the work of about 40 gardeners, who tend 28 boxes, plus an orchard, pollinator garden, and in-ground plot. A community garden coordinator processes applications and oversees the budget. For a yearly fee of $50, gardeners receive the use of a bed, water, and mulch when it's available.
Gardeners will be on hand during the tour to talk about their growing efforts. At this time of year, you're likely to find tomatoes, squash, beans, cucumbers, peppers, eggplant, corn, okra, pumpkin, and herbs in the boxes.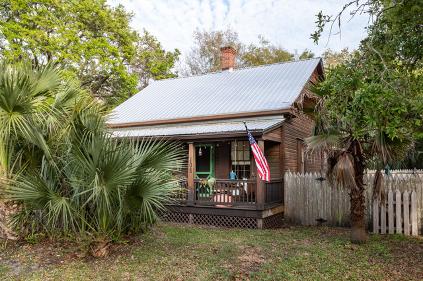 6. Sylvia Pennington House
108 Avenue I
Wilson, who recently celebrated two years of living in Apalachicola's "Hill" district, loves the sounds of her vibrant neighborhood. Before moving fulltime, Molly traveled from Tallahassee a few days a week to help manage one of the town's art galleries. In making the house her home, Molly has furnished it with her own collection of Southern and regional art. In helping her live comfortably, Molly sought creative solutions such as undercounter and drawer refrigerators, an open closet, pull-down attic stairs, and porch screens.
Peter Schetter, a former ballet dancer who lived in Vermont, beautifully restored the home bringing it back from the brink over 20 years ago. Peter sandblasted several layers of paint from the original wood walls and updated the home's electrical, plumbing, and HVAC systems. With the help of Erin Rodriguez Construction, he converted the hipped roof outbuilding into a primary suite with an outdoor shower and added a breezeway connecting it to the original four-room house. Peter believed the home was built around the turn of the twentieth century. The Florida Master Site File estimates construction at approximately 1910. Double-barrel shotgun houses consist of two houses sharing a common wall. This double house shares a center wall, and with corner fireplaces in each room, a central chimney.
The house is called the Pennington house because it's known she was an early owner of the property. "And there is information about her – scant as it may be," said Pam Richardson, who researched this house, along with many more on the Hill. Sylvia, a woman of mixed race who was born in North Carolina (probably as a slave), purchased the property in 1877 for $75. According to census records, Sylvia became a widow before 54, and like many widowed women on the Hill, she had boarders living with her. In January 1883, Sylvia gave the lot to Mt. Zion Missionary Baptist Church for $1. Twelve years later in 1895, the church sold the property for $60 to James Munroe who, in turn sold it the very same day to M.C. Clark for $125.
A historical survey taken in 1975 notes two houses on either side of the Pennington house. A 15' by 38' shotgun on the east side, said to date to 1890, would later be destroyed by fire. A story about the incident still circulates among some residents who say a jilted lover of the woman who lived in the shotgun threw a homemade firebomb burning it to the ground. When the Pennington house was purchased in 2001, the entire east side of it was scorched.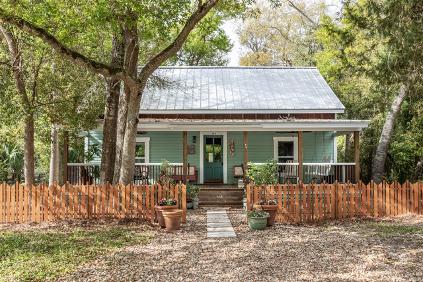 7. Matt Raiford House
156 6th Street
Built in the nineteenth-century, the style of this frame vernacular house is rooted in practical responses to Florida's humid, subtropical climate. Constructed of heart pine and cypress, the house features a wide central hall flanked by two rooms on each side, long windows, and ten-foot ceilings. The sills of the house rest on ballast stones – quarried stones that were placed in the empty hulls of cargo vessels to provide stability.
An African American originally from Columbus, Georgia, Matt Raiford first shows up in Apalachicola records in 1900 as a 24-year-old single man working at one of the many sawmills. Seemingly determined to be married, Matt wedded Mattie Reese in 1923 – Mattie was Matt's third (but not last) wife. Mattie, who worked in an oyster factory, owned the home. Upon Mattie's death in 1929, her grown son inherited it. Two weeks later, he sold it to Matt.
Remembered as a gardener and a great cook, Matt was a kind man, especially to children. Sometimes on Sundays he would invite youth from St. Paul's AME Church home for tea cakes. A neighbor, now 91, recalls children coming to the porch for a turn on the swing, Matt's being one of the few around. In 1960, after a life of work and a seemingly disproportionate sorrow, Matt passed away at 84. His house remained vacant for over 60 years gradually obscured by untamed growth. That is, until 2016.
Although scheduled for demolition, Peter Gallant recognized the abandoned structure's value. To save the home, he and his wife Pam Richardson purchased it, stabilized it, and then sold it to Ashley Willis. Ashley, a contractor with family ties to Apalachicola, worked for four years with her business partner on the home's restoration. Ashley maintained the history and charm of the home while making it into a new space. What was once two rooms on the south side is now an open family room featuring the preserved double-sided fireplace. Raising the roofline allowed two new bedrooms and baths upstairs. Steps made of walnut and a handrail of heart pine lead the way.
After seeing their collected home, you'll be surprised to know Diane and David Peck have not lived here a year. The kitchen's three wooden tables are from a dry goods store the Pecks owned in Tallapoosa, Georgia. Dave made the cypress table on the porch and constructed the fence in front. A potter by trade, Diane's mosaic mirrors, made with her handmade porcelain tiles, grace the entry and upstairs bedroom. With an inviting porch swing reminiscent of Matt Raiford's, the Pecks are helping preserve his story while creating their own.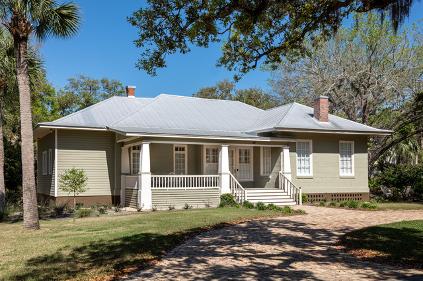 8. The Gaines House
87 Avenue D
The Gaines House is reported to date from the middle of the nineteenth century, and at one time, to have served as a hospital. In his hallway, Charles Hart has a framed drawing depicting the home's original three-room layout along with other phases of growth. In the sketch, the house is shown facing Gorrie Square. Historically, buildings were oriented toward the town's six city squares, but over time, this design feature was lost.
In December 1881, Emma Gaines purchased the house for $385 from Charles Glazier. In 1880 Charles worked in a sawmill and lived as a boarder in a house next door to Emma and her husband William, an apiarist (beekeeper), and their son. Almost 30 years later in 1910, the Gaines property went up for public auction to satisfy a judgement against Emma's husband, her son George, and daughter-in-law Nancy. Byron Morris purchased the property at auction and sold it a year later to William Sawyer for $1600.
At some point before 1967, the Gaines family acquired the house again. Matilda "Tilla" Gaines Sheally and Sarah Gaines – daughters of George and Nancy – sold the home to Henry and Martha Maddox on the last day of the year in 1966. (Interestingly, before they married, Tilla's husband Charles Sheally rented a room in the Kimball house on 4th Street across from the Armory. The Kimball house shares importance with another house on our tour – the Uriah Wright House on Bay Avenue.)
In the 1920s when Apalachicola's post office/customs house was built, a contractor who remodeled the home applied scored wood siding to the exterior to achieve the effect of masonry. One of Charles' best finds are five ceiling fixtures he discovered in the attic. Seen now throughout the home, the antique lights were not wired for electricity.
By removing a wall that separated the once galley-style kitchen, Charles transformed the space by replicating the columned opening of the living area. By eliminating the kitchen's pass-through window and closing the wall, Charles' office now doubles as a guest room with a creatively hidden Murphy bed.
Charles, who had been coming to the area for years, thought he would move to St. George Island once he became an empty nester, "but I really wanted to live in a community," he said. Although he did not want an old fixer upper, his stewardship of the Gaines House is exemplary.